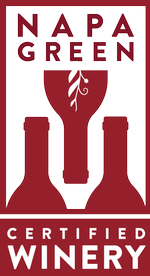 O'Shaughnessy Estate Winery is committed to becoming Napa Green certified. Napa Green is one of only four sustainable winegrowing programs nationwide offering the opportunity for comprehensive soil to bottle certification in both the vineyard and winery. 40% of all of the certified sustainable wineries in CA are in Napa County. These wineries implement more than 120 sustainability and stewardship standards to:
• Save energy and water and increase efficiency.
• Prevent waste through recycling, composting and environmentally preferable purchasing.
• Reduce GHG emissions and the winery's carbon footprint.
• Commit to social equity.
• The whole facility is certified from production to administration to hospitality.